Wow, while I missed last year I was looking forward to motorama this Feb.
I hope this is not the final word on a trials event and simply another case of the rumor mill at work.
Does anyone have any word on Toque 07 while were on the topic of winter trials comps?
Darn, I donated the HoW gang's huge tire w/ wooden disk (as seen in picture), in hopes of getting to see it used by awesome riders for years to come. What do you think they'll do with their truckload of trials obstacles?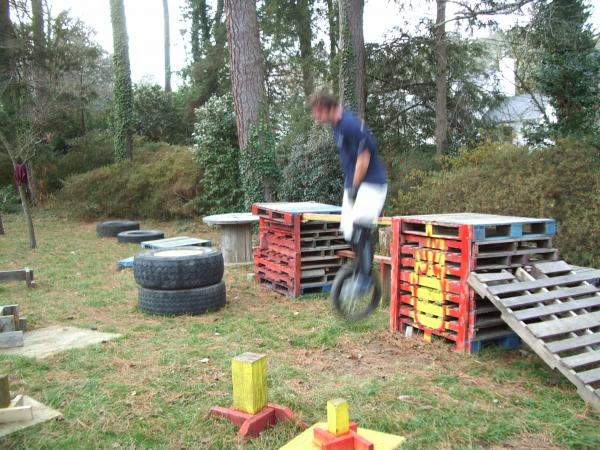 set up a trials course at burning man
Motorama is no more but another will take its place
From the Motorama website:
Looks like it's a done deal. Motorama is the only trials competition I've ever been to, but it was one of the most fun things I've ever done.
Are you referring to something specific?
dont read the bike trials forum thread those people are mostly bs and realy had nothing to do with motorama. I ride wit the guys who set up the bike stuf and they told me that they will be puting on another comp in feb
Sweet! Be sure to put in a good word for the unicyclists and keep us posted.
Brad H. is the man in charge of the overall Motorama, its his baby. He said (I talked to him directly before posting to observedtrials.net) the additional cost of the newer building we used and small numbers of biketrials and mototrials riders made it impossible to justify keeping the trials. There will be no trials at Motorama… see announcement on thier webpage. Its sad, I had been to 11 years of them.
unis and bikes will be togather with mod bikes. the way it should be. but there will little things to make it better for unis