This last weekend Scott Wilton and I did the Rusty Ride, a 26, 50, or 100 mile race in northern Minnesota. The course was about 7 miles pavement, 2 miles smooth snowmobile trail, 7 miles bumpy double-track, and the rest single track. 50 milers did 2 laps and the 100 milers did 4. I did the 26 miler on my 29 with 140's while Scott rode his Schlumpf 26 with 137's and a disc brake for the 50 miler.
We arrived Friday evening, helped out with registration for a few hours and then camped in the park where the race started and finished. The 100 mile race started at 7:30, and we both woke up just before that race started. Our race didn't start until 10, so we had a bit of time to wake up, hydrate and get some food. I also added a stylish Cow Bell to the top of my camelbak, given me company and my own cheering section for the whole race.
The race started with a police escorted rollout through town out to the snowmobile trail. Given that my uni was not ideal for keeping up on the road I started in the very back, while Scott started mid-pack. By the time we hit dirt I was about 100 yards off the last biker, and they were dropping me quickly. At this point I decided to just finish and not walk any section of trail. I didn't see anyone else in my race for a long time but I did get passed by a number of 100 milers that all gave me encouragement. I got passed by one woman just as we entered our first single-track and I managed to stay close to her until we hit road again. I didn't see anyone else while on the road section but the cowbell on my back helped me keep the cadence up. I only started passing people on a section of two way trail where I passed Scott, we high-fived, and he gave me a complaint about the surface to come.
This section of trail, the double track, was much newer and less developed than most of the Cuyuna riding. It was basically a trail of mowed grass through a hilly field with the primary purpose of winter riding, making it very bumpy. The bikes didn't seem to mind much, but it was MUCH slower for us. I hadn't dismounted to this point, but through about 5 miles of the stuff I managed to fall on hidden holes about 10 times. One of the MTB Patrol folks rode with me a bit through this section, but soon decided the incessant ring of my bell was too much to handle.
At the 12.5 mile point there was a food/water station where a friend was volunteering. I was a little under 2 hours and feeling good, so I filled my water, ate and drank a little, and chatted for about a 5 minute stop before venturing forth in good spirits. Only a mile or so left of the annoying double-track and I was on the pavement back towards sweet, sweet single-track.
After hitting single-track again there was about 8 miles solid, sweet, up and down single-track. This was the Mahnoman unit of the Cuyuna trails and we rode most of it. 4 big climbs, 4 sweet descents, a few technical bits in between. I rode all the technical bits without incident. After the 2nd big dissent I started bonking faily badly and had to sit and eat before the third climb, and then again before the third descent. I had a lot of trouble with the last 2 climbs. Well, LOTS of trouble with the last climb. The climb is constant climb that varies in grade, going from easy to steep enough to get myself into a standing grind and back several times. I was worn out enough that I had to take a number of breaks on the hill, always starting a few feet downhill of where I had stopped but decided to walk about 30 feet of the steeper stuff at the top, but I was done climbing! Hurray!
After some sweet rolling downhill back to the road level all I had left was about 3 mile of road riding back into town and I was not in a big hurry through this section. As I hit the grass through the park to the finish and the actual final climb the cheering started and I pushed as hard as I could towards the finish, which was probably only 8 miles or hour or so. I finished in about 4 hours and 16 minutes making me the slowest 26 mile finisher at an average of 6 mph. But I was only 10 minutes behind someone ahead of me. I did manage to pull down 2nd place in the single-speed category, though.
After the race I stopped to have some potato chips, wash off, drink a lot of water, and wait for Scott to roll in. He finished in a respectable 5:20, averaging about 9.6 mph.
I have to think if I rode it again and the course was the same I would ride a 36 with 150's and a brake and probably finish a little earlier, but walk a little more hill.
Hopefully Scott will pitch in with some more thoughts, and I'm hoping for a little better next year.
A few Pictures:
http://www.pyrodogg.com/gallery/event-galleries/mn-rusty-ride-2012/
Feeling good about 5 miles in, through the first section of single-track -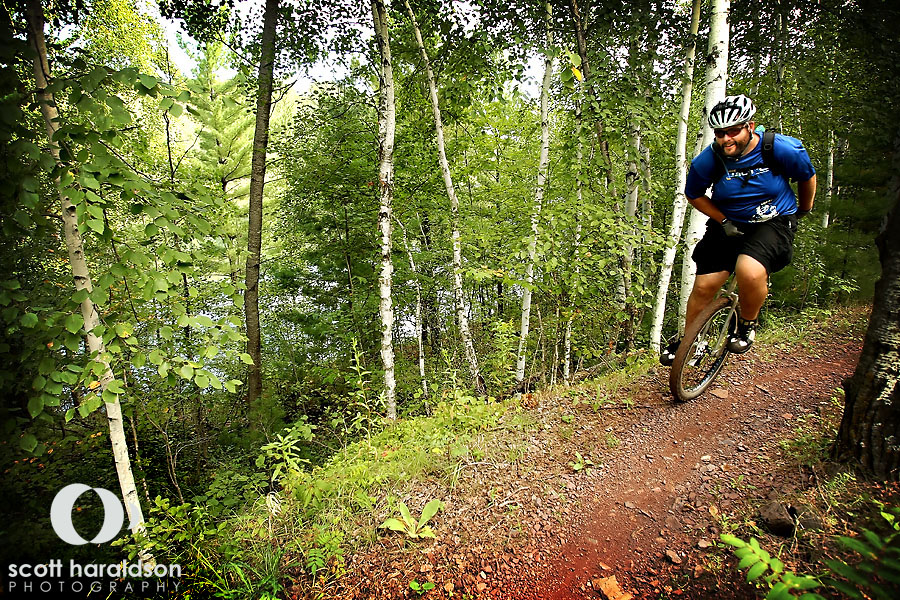 Crossing the Finish line, not feeling very good:

Results:
http://mnrustyride.com/?page_id=66
Trail map. We started in Ironton, rode out to the Sagamore Unit and rode most of Sagamore, back to Mahnomen and most of that, and then back to town: