I've just bought a new Heart Rate Monitor. It's a Polar F6, which displays a logo when in watch mode and allows the user to customise the logo using a tool that can be downloaded here:
http://support.polar.fi/PKBSupport.nsf/42256c2b001e0f6ac22567cc00357477/42256c2b001e0f6a42256cd2002f74bc?OpenDocument
The logo is restricted to 2 colours on a 47 x 16 display, so I faced the challenge of fitting a unicycle hockey picture into that tiny space.
There should be 2 images attached here. The first one was my first effort and the second is the logo I now have on my HRM. Believe it or not, it's modelled on this photo that Google found for me: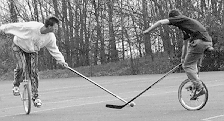 I've submitted the second one for inclusion in the Polar gallery:
http://support.polar.fi/logos/fitness/index.html
What I want to know is whether anyone else here has created anything similar that I could use or base my next effort on if I get bored with my new hockey logo.