yea, I'm wondering, could I put a 20" freestyle wheelset into my KH frame?
-Miles
wheee!
O RLY?
Yeah, probably. If you have a KH frame on hand then try it. It might not match the bearing size. The seatpost might also have to be replaced.
I have a KH trials. I want to put a freestyle wheel in it.
how do I know if the wheelset will fit?
Why wouldn't it fit?
You will just have a bunch of clearance.
This will depend on what wheelset you are trying to put into the frame.
Certainly if you have a freestyle wheel set built around a KH hub you will have no problems with fitting it in the frame but the hub is overkill for a freestyle unicycle.
If you have a freestyle wheelset using a Unicycle.com Chromoly hub then the distance between the bearings is exactly right but the bearings do not have a large enough outside diameter. If you just put this wheelset into a KH frame it WILL NOT work as the wheelset will be too loose inside the frame.
KH Hubs use 6004-2RS bearings which have an inside diameter of 20mm and an outside diameter of 42mm.
UDC Chromoly Hubs use 6203-2RS bearings which have an inside diameter of 17mm and an outside diameter of 40mm.
Both bearings have a width of 12mm so you can get around the problem of a loose wheelset by adding a shim to the outside of the 6203-2RS bearings to take them up to 42mm diameter.
Unicycle.com UK sells these shims I believe:
http://www.unicycle.uk.com/shop/shopquery.asp?catalogid=860
As others have pointed out you may want to get a longer seat post, as when riding trials you usually run your seat post way lower than you would for a freestyle uni.
If the bearings are too small for the holders you can just make some shins out of soda cans or something.
Assuming you get some shims, here is what your KH freestyle unicycle might end up looking like.
The attached images show a KH frame with a Nimbus II wheelset.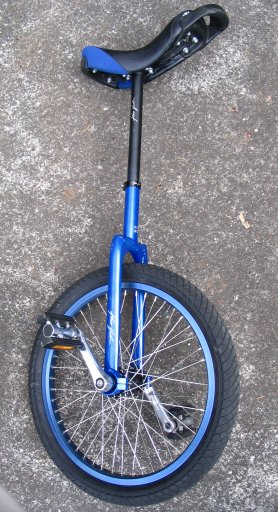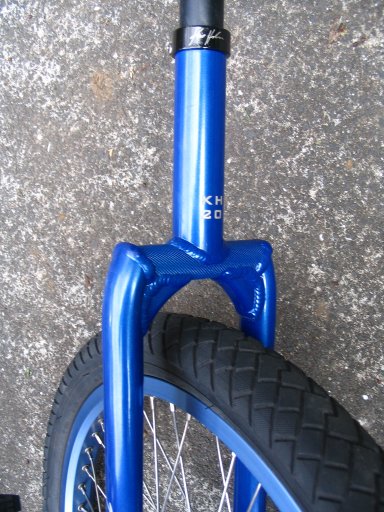 that pretty cool, but ouch, a alot of tire clearence.

Is that your kh? I suppose I might see it tonight?
cool, the KH 20 frame has knurling too!
Good work Peter
The KH frame for a freestyle wheel is probably an overkill, but it looks great in the photos and, why not. It would be a great unicycle and very desirable.