Looks like a unicycle ironing board hah. I wonder if he still rides?
I think he still rides, because the Italian Unicycle Association usually goes in autumn/winter to Switzerland and, if I'm not wrong, he is one of the teachers.
He was for sure the teacher in 2010. I don't know if he's still one of them.
But he was in Canobbio, here in Italy, last summer for a Unicycle camp.
here some infos (but in italian): http://www.unicyclist.it/forum_forum.asp?forum=1&section=43&post=8425
+1 I was shocked when I saw it for the first time a few years ago.
I can't even imagine how he gets up there.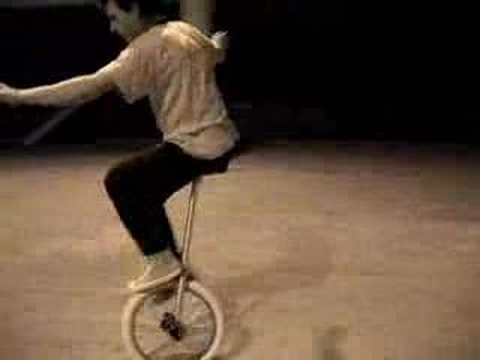 He gets up there starting by a wall, he mounts on the seat/ironing board
Julien still rides and is the official teacher of the switzerland freestyle team.
They met in Nidau (CH) almost every 3 weeks, on saturday afternoon, and in special occasions like the 2-days training meet in Filzbach (CH) and the 3-days in Magglingen (CH).
He told me that it tooks for him 5 years to master that ride-on-saddle trick; when someone ask him if he could mount and ride like that without using the wall he answered: "I probably can, but I need 5 more years for that"
The A.I.M. - Italian Unicycle Association, joins his training af often as possible.
He's a great teacher and very kind person.