I never really liked my Schlumpf 36" frame as it was too wide at the top. This meant that the crown would annoyingly touch the backs of my legs with every pedal stroke. Seeing as I'd already built the wheel up as a 29er I thought I'd cut down the frame to match. I figure if I ever want to build a Schlumpf 36" I'd use a Nimbus 36" frame instead. Having nothing to lose, I gleefully took to my not inexpensive Schlumpf frame with a hacksaw!
Before shot: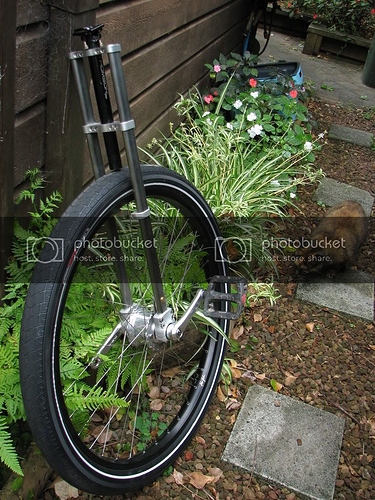 After shot: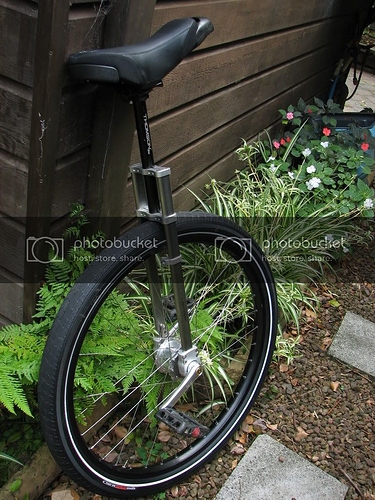 Specs:
Chopped down 29" schlumpf frame
KH rim
Double butted Wheelsmith spokes
Big Apple tyre
Quax 125mm cranks
Odyssey twisted plastic pedals
Thomson seatpost
KH Freeride saddle
After reassembling the newly shortened unicycle, I took it on a 2 hour test ride. I rode to Cornwall Park and up Maungakiekie/One Tree Hill, doing the circuit which me and Peter Bier use to compare road unicycles in 15 minutes. [Not sure how this time compares to a coker - its been a while since we did the original comparisons. Maybe Peter will chime in here…] Then I rode through Ellerslie and up Mt Wellington then home. The only time I noticed my legs touching the crown was when climbing steep hills. So the surgery was successful.