Fall Cokering in Colorado, it's a real high.
Awesome pic!!! It looks surreal!
I'll second that, awesome picture. --chirokid–
Great shot! But until you have a MUni Weekend out there, would you like to come to ours?

John, I am sooo bummed that I can't make it, Moab 04' for sure. I would love to put on a MUni/Coker festival this time of year, as the uniing is beyond beautiful. Between the TRide crew and Aspen we could maybe pull something off. Thanks to all of you who posted replys, the pic is to nice not to share. That kind of scenery is everywhere, which makes for mindblowing wheelin.
Aspenmike, that's awesome. Here's me in the Austrian Alps, last summer. Gives one a high to ride so high don't you think!
Klaas Bil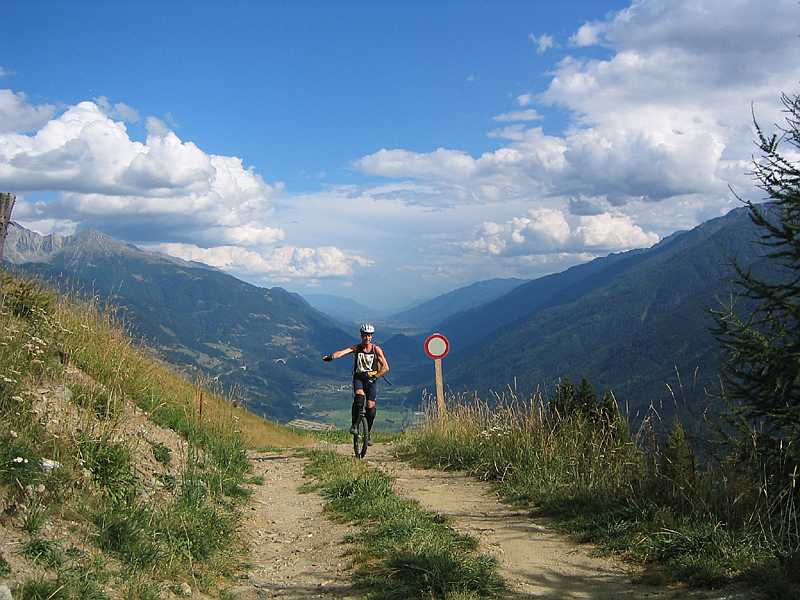 Great pic, and no offense, but I think that's been touched up in photoshop. I notice that there's the shadow of a rider on a 20", but that's clearly not one, and also the legs face us (the coker is coming towards us) but the torso faces away. Still a good pic, though.
PS Did anyone else see that?? Just wondering if I'm right.
It's COKE®, the real thing. I am riding towards you, and the angle of the sun makes the shadow interesting. My wife pointed the tiny shadow out to me.
Bil, yes there's nothing like summiting a mountain pass on a uni, whether it be 14,000' or 12,000' it's still Nirvana. What kind of vertical did you climb to get out of that beautiful valley? Nice pic, wish i was there.
Independance Pass would be a long hard ride even on b*ke, let alone on a uni (at least for me). But I'm up for it next year. That would be a great fest! (Cottonwood pass is hard pack dirt if we wanted less traffic…)
It is a funny shot after reading gerblefrankin's assessment. The torso indeed looks like it's going away from us while the legs look like they're heading toward the camera.
I guess that's just what things look like at such high altitudes.
But for the shadow, draw a line from the top of his helmet to the top of his shadow. Then draw a line from the top of his tire to the top of the tire in the shadow. Are they parallel?

It's called midday.
Great Pictures guys.
If you guys are in the mood for planning a colorado muni event I would deffenatlly go.
Chex
You can barely see my albino mustache if you look hard enough, and yes John, it was about midday, on the Equinox! Here's one more pic from that day.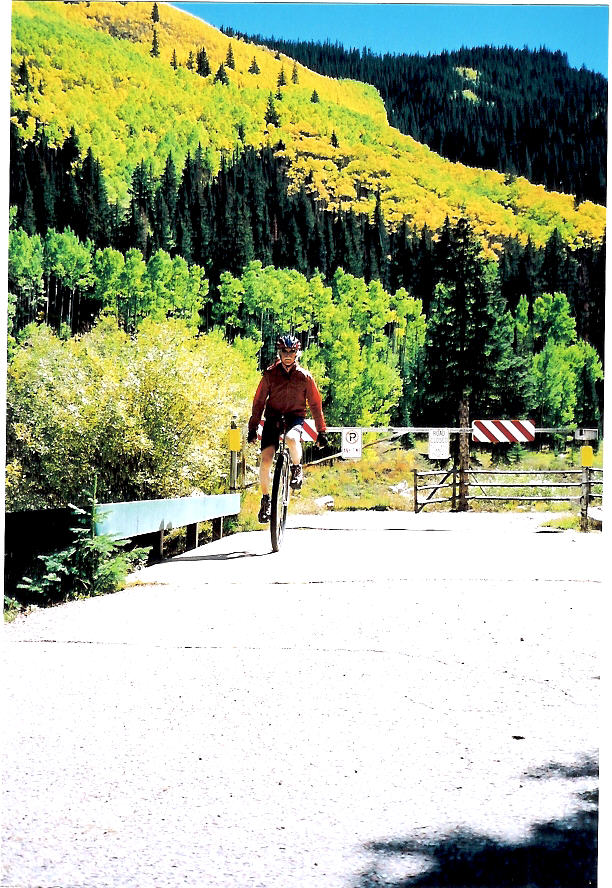 The valley is at about 650 m altitude. We parked the car at 1275 m, then climbed with the unis till about 1700. (Multiply by 3.3 for ft.)
We actually had to walk maybe half of the distance, grades were sometimes over 40% (had the inclinometer with me of course) but down we could pretty much ride it all. Jorga did incredibly well on her skinny 20", see pic.
Klaas Bil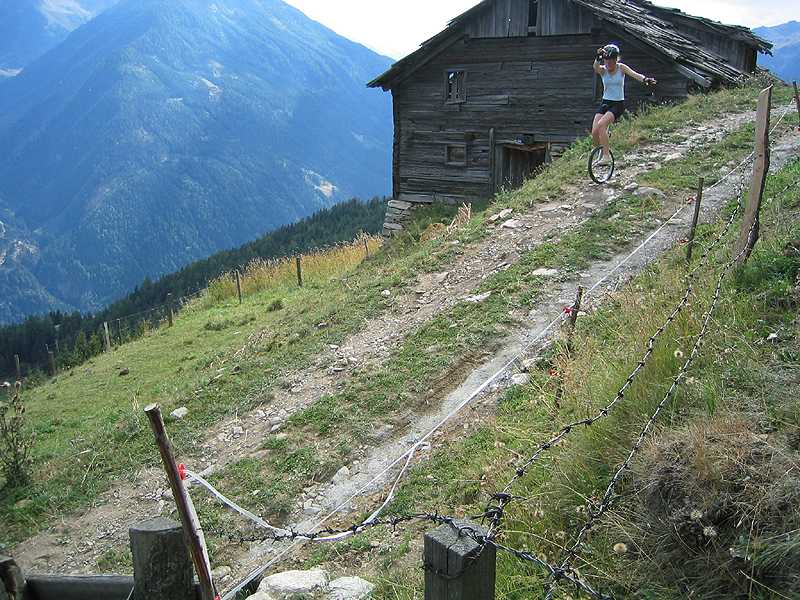 40% grade, that means for every foot out, you go down almost one foot. I am amazed at what is rideable on a MUni or Coker just about every day that I ride. Is 550m an average of your climbs?
Re: Getting High… in Colorado
On Sat, 4 Oct 2003 18:47:18 -0500, aspenmike
<aspenmike.ustt0@timelimit.unicyclist.com> wrote:
>40% grade, that means for every foot out, you go down almost one foot.
I' m not exactly sure what you mean by "for every foot out". To me 40%
means that for every horizontal foot (distance on the map, i.e. not
along trail) you go down 0.40 ft = 4.8".
>Is 550m an average of your climbs?
I wish! BTW, this was 'only' 425 m (i.e. 1700 - 1275), not reckoning
the part done by car. Did a couple of rides in this delta-altitude
range when in the Alps last summer. I plan to have a webpage up some
time with our Austria uni adventures. Living in the Netherlands my
highest hills within riding distance are a whopping 22 m high. Oh, to
have your backcountry!
If you live near Aspen (as your handle suggests) you will probably
know Mt. Evans. I've visited it in 1987 and it was my highest location
on Earth to date. (14264 ft, for those who don't know.) Only the last
100 m or so you have to hike (which is what we did), the rest is just
a car ride - highest paved road in the US at least at the time.
Have you processed the colors of your photos in some way? They don't
look quite natural to me.
Klaas Bil - Newsgroup Addict
If the crank is moving then it really sounds as if it's loose. - onewheeldave trying to pinpoint the cause of a clicking crank
I know Mt. Evans well, I rode my Coker to the top last summer. It was EPIC to say the least. We are spoiled here in Colorado, the Mtns. anyway, with some of the best Cokering and MUniing in the world. The colors are enhanced a little with my computer, but this fall has been one in one hundred, so I am told. The adrenilene high one gets riding at altitude is unmatched.
Re: Getting High… in Colorado
Aspenmike you might be interested to check <http://www.lopa.be/>. This
is about Belgian unicyclist Lode De Paepe who recently did a triple
ascent of the Mt. Ventoux, a famous summit in the French Alps. The
homepage is in English but the subpages are in Dutch only.
Klaas Bil - Newsgroup Addict
If the crank is moving then it really sounds as if it's loose. - onewheeldave trying to pinpoint the cause of a clicking crank
Ahhh, Mt. Evans. I remember the beauty from a few years ago. I forgot the distance, but the climb from Idaho Springs starts at about 7,500 feet and continues to 14,500 or so. No, I didn't make it all the way on one wheel (less than halfway as I remember).
More memorable was the fact that I didn't notice how cold it was getting as I gained altitude since I was working up a sweat the whole way. It was July! How cold could it get? I found myself at 14,500 after about four hours, wearing only shorts and a tee shirt (stoooopid). A little bit of nip soon became very cold after the exercise ceased. Then came the haunting thought that the much anticipated fast ride down would actually be a brake dragging, bone chilling experience. It was, for about half of the descent. I never thought I would look for a sag wagon at the 'top' of a mountain.
Dress warm for high altitude climbs, even in the summer.