Hello Fellow Uni Riders! My name is Chris, and I'm just getting back into the sport after a 20-year hiatus. I am thrilled to see how it's grown and diversified since I rode back in high school with The Concord Unicycle Drill Team in CA. Now a father of 3 in Central PA, and desperately in need of a way to burn calories/thin down while having fun, I was thrilled to find The Wobbling Lions (www.wobblinglions.com) our local Uni Club

.
I own a small custom airbrush paint business that specializes in painting R/C cars. It's a unique inside-out style of painting, but I've been succesful so far in custom-painting (the outside of. . . ) my own riding helmet. And I'd like to offer this service to you as well! You can see my work at the website in my signature, and here is my first attempt at painting an ABS-shelled skater-style helmet. . .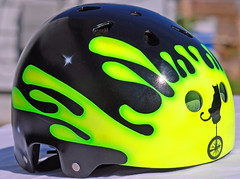 . . .that's my nickname on the back, leftover from my MX racing days

.
You can see my pricing and purchase procedures on my website, the price range and quote structure for a custom helmet will be the same as for a custom RC car body. $50-100 for a custom paint job, add the cost of the helmet (or send me one) and the cost of shipping it back to you. E-mail me through the website or through this forum for a quote if you'd like.
We also can supply custom vinyl decals, like the logo on the front my helmet above or text or whatever you'd like, for between $1 & $5 per sticker plus shipping. Get matching helmet-stickers or uni-fork stickers for your club! Or just get your NAME so you can tell your old chrome Sun 20" from all the others littering the grounds at the Nationals

I am also open to trade offers! I rode a Coker for the first time last weekend and now I must have one

. . but have only my skills (and a relatively new Sun 26". . . ) to trade. All of my cash right now is going into an '07 Nationals Trip Fund!
Please let me know if you are in need of custom paint or custom vinyl decals.
Thanks!
-Chris