So, I went on a long coker ride to Wal-mart…with no intentions of buying anything. Anyway, I rode the entire uphill/downhill-urban-sidewalk 4 mile or so trip without a single upd. This doesn't sound like too much of an accomplishment until you see the hills and traffic I swiftly conquered.
Anyway, I arrived at Wal-Mart really thirsty. I spotted some soda machines out front and confronted them. I reached into my wallet, but to my dismay found two lonely $5 bills; both of which would not work in the machines.
Disappointed and dehydrated, I headed back about a half a mile to the Dunkin Donuts where I got a Large Iced Caramale Latte (with whipped cream, caramel, cream, and sugar) for $3.99.

(I feel its appropriate to include my favorite 'quote from a non-rider' right here) "Ohh you go boy, and don't you neva come back oh oh!"
I casually made my way back down mainstreet and took a short detour through a park to show off to some little kids and their mothers. As I approahed 1st street I figured I'd stop at the only bike shop in the area (Merdocks)…again without intentions of buying anything…but merely to look cool walking into a 'bike' shope with a 36" unicycle.
At the door one of two young kids asked me if I was getting my tricycle fixed at Merdocks. I kindly replied, "Unicycle, and nah, I'm just having a look around."
I took a look at their helmets (skater style), but even the largest size wouldn't fit on my large head :o . Then I looked at the pedals. I saw they had some Jim C's…so I bought a pair for my qu-ax back at the dorm.
On my way out of the shop an old man asked me if I was going to ride it, and how big the wheel was. I made my way back about 2 miles or so from that point with the blue bag swung over my shoulder.
I took the pins out of one side of one pedal (i'm going to go out now and try and grind a bench) and went to put it in. Like a complete idiot, I spent the better part of 15 mins trying to shove the pedal in, cursing both qu-ax and jim c for the lack of compatibility. I managed to get it in all the way…but sat there puzzled, examining the other pedal…
"L," I read. Hmmm. %$#@&!*(! What a freakin moron. I didn't know it matter which pedal went on which crank. I took of the pedal, and to my delight found that the other one went in smoothly, and that I had not completely stripped the crank :o .
Then I had to go through the hassle of putting the pins back into one pedal and taking them off of the other.
So…thats my story, just thought I'd share. Here's a pic: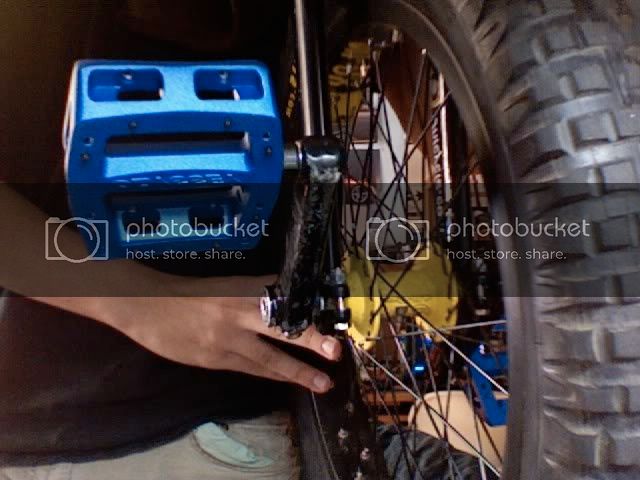 Doesn't really match…but who cares?
The pedals feel really good…very sticky. I'm going out to test them further right now. Peace