any 36
although i personally have a coker (as you know

)
haha
but yes, all welcome
Well I have two 36ers and a Muni…so those are sexy measurements…36 24 36!


Do modded cokers count???

Sweeeeet!!! cause mine had a Low Profile 40" tyre on it and magnesium pedals on 102s.

[U]For those that don't know.[/U]


Low profile means: An upgrade to a tyre with a lower profile size than the original will generally improve the vehicle's steering response, handling characteristics and appearance. There are options of changing the rim width and diameter, which will maintain similar specifications to the original tyre fitment.
My 36er
Nimbus 36 Deluxe
Airfoil rim (small one:( )
TA tire, soon to be grooved and studded
stainless spokes
UDC superwide hub, thiking of switching to a "regular" wide hub or eventually a schlumpf if I save enough money.
T7 bar with drops, very similar to this and a little stubby thing with a light taped to it.
KH freeride saddle
170mm cranks (winter mode)
DX pinned pedlals, might switch to snafus
blinky red light in the back
bike saddle bag on back part of frame
water bottle cage held on with hose clamp because the mount thingy broke
lots of 3M reflective tape on the frame and rim
bike computer with a mini-audio plug thing spliced in the wire so I can take the handle off without completely removing the computer or cutting the wire.
Very fun machine and my main mode of transportation since my truck got schmucked.
Hey Hazmat: I have heard you talk about you moded coker many a time. did you extend the fame to fit your bigger wheel? I know a 40 would not fit in my nimbus frame.
The wheel was 40" tall right, not just a bigger rim with a low profile tire and still 36" tall?
I've ridden a coker once or twice, it was pretty cool.
But riding a 20" schlumpf beats the hell out of any coker.
'07 Radial frame 25.4mm
Custom Powder coat blue
qu-ax 114mm alum cranks 0-Q
Airfoil rim (no issues at 40 psi)
TA tire
UDC wide hub
KH fusion freeride saddle
Quick realease seatpost clamp
KH 25.4 seat post w/rail addaper
T7
"airzound" re-fillable airhorn (120db max)
(Also secondary KH fusion freeride saddle and seatpost [minus T7] for "coker muni")
Nimbus 36
Airfoil rim
TA tyre
UDC extra wide hub
DMR magnesium pedals
KH fusion freeride seat
KH seatpost with rail adapter
T7 handle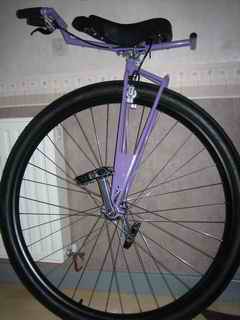 Mine is a QU-AX 36". So far, only muni seat and flames valve cap are custom. I'm thinking of buying a freeride seat someday.
pdc, your seat is angled up quite a bit!
Still waiting for picture too.
At least just spend a few dollars and get a disposable camera and get some pictures with that.
I don't know why people want pics of it???
All you have to do is picture a coker with a slightly larger tyre and that's it.

So, how do cokers respond to snow and ice? Specifically, the TA tires?
we want proof that you actually have one.
Hazmat
Some people want proof that you actually have one but I am sure that a larger number of people just want to see what it looks like or how you put it together. I am most interested in what you used for the tire, and if you extended your frame.
I also wouldn't mind a detailed description (or pics) of that inverted T7 that you talked about a while ago.
These things that you make are innovations and if you share your ideas it may improve the world of unicycling for all of us.
ERIC
Does it really matter and i don't care if you don't believe me. Sorry but that's how i feel right now. I apologise if i offended you in anyway.

Hawo saskatchewanian, i know what you mean. But there's nothing to say.
1) The frame wasn't modded and the tyre just fitted under the frame.
2) As for the inverted T7. It was a disaster from the word "go" as it kept falling/breaking off and hitting my tyre so i removed it. I suggest that no one attempt this as it is not the best thing to do. When i did it, it was merely for experimental purposes to see what it was like to try something different.
3) I'm sure there are people out there (including yourself) with ideas that are far superior to mine. But are probably afraid or worried that their ideas won't be put into perspective and releasing them into the world of unicycling, for reasons that i will not or never know.