I'm definitely up for it.
Bring me a 36er and meet me at my house in toronto.
10-26 Sunday not good for me. Have other plans.
But any other Sunday would be good.
My knees have been doing well so I have been trying shorter cranks on the 36er (140mm now , started with 170mm)
It make a Huge difference. I love the speed. :)Trying 127mm next.
Mark
Ill be at bicycle event in link, (with bicycle I think.)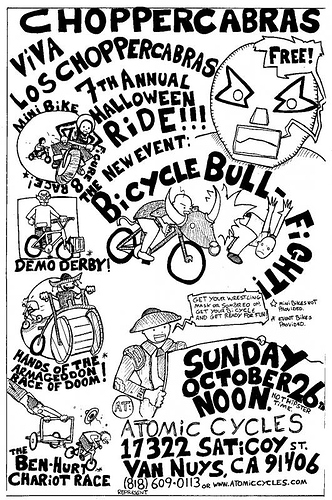 You guys ever think about setting up a mailing list, so your ride planning threads don't become a permanent part of RSU?
Thought about it but then all the newbies that aren't on the list wouldn't know about them and all you guys wouldn't be able to read and look at pictures on them!

I might be up for a ride, but that is also the same day of the Orange County Unicycle Club Halloween Bonfire so if I can do both I will. Could we possibly plan a ride where we start and finish at the bonfire?!
Actually, I second that. Based on the thread subject, it is hard to know where the ride would even be. California? Canada? Australia?
corbin
Will Rogers State beach? I mentioned that and others, but I would have thought that most would know it's in CA. If not, let me clarify; It's in the SoCal beach cites of Orange county and Los Angeles County.

And at least it's not another, "What's the best uni to buy" thread, lol!

(But I'm sure you guys chime in and complain about those too when they pop up, right TB?

Corbin's point was about the thread title. There is no indication of locality there, so one must read through the thread to get that information.
Apples and oranges.
Well, Terry said "Wherever the majority would like to meet for the ride". So how about the Netherlands for a change? I've got a nice 80 km (50 mi for Terry:)) tour mapped out already, which I rode with Roland when he visited.
Haha, what's the address/directions? Oh, and thanks everybody for continuing to bump this thread!

i don't know. i want to go to the bonfire early. And i got a few things to take care of this weekend. I really want to but i don't know if this weekend is good for me. Maybe in two weeks if you plan a week in advance so i have time to get a ride. Its kinda hard not being able to drive yet:(
Well, the bonfire starts at 6pm, right? So I'm going to be bringing my 36er anyway, and my trials and MUni, so I thought why not get there about 2pm and do a 36er ride on the bike path first, and maybe a MUni ride before that at Whiting Ranch! Make an epic day out of it!
PS: Hey Jason, Join us!
Good point, sort of.
How about this for an idea. Start one new thread (by Terry, of course), and call it something like the Official Southern California Ride Organization Thread, and then use it as a "rolling" thread to organize your rides. Sometimes it will drop from the first page when you skip a weekend, and then up it pops again when a new proposal is being discussed. Sometimes it will be used for muni rides, sometimes for coker. Newbies in your area will know about the rides, because the thread will be properly titled. Those of us not in your area will know to skip it if we want, rather than being drawn in by the possibility it might involve us.
It's like recycling for the forum. One thread, many rides. Y'all'd be green 'n stuff.
Excellent idea. It would work just fine.
Hey Terry! Where is this going to be? I'd love for this to actually be in Huntington Beach, because I can actually get there! (I can't carry my Coker on my motorcycle… yet…)
I'd love to come out if it's nearby enough for me to ride to where we're meeting (that'd be anywhere south of Seal Beach and north of Dana Point, pretty much)
Bummer that you missed CMW

Also, I think I'll say that I like the idea of the Socal Ride Org Thread… I'm not on any mailing list for Socal, and if one started, I'm sure it'd start without me and plenty of others who'd like to ride every now and then. At least the Socal Ride Org Thread will get bumped when a ride is coming up.
Oh yeah, I saw your posts somewhere about my having supposedly "ridden UP Iron Mountain on a 36." hahahahaha, not even close

Just for the record, I only rode maybe half of it, maybe not even that much. On the ups, I only rode the easy easy parts, and did more than my fair share of hiking. On the down, I fell quite a lot at the top, but figured out a bit about how to ride little drops and stuff after the first half mile or so. After that I cleaned maybe 80 percent of it and rode 90 percent of it after a try or two. I definitely NEVER saw any terrain like the kind in your pictures!! I don't even think I could do that on a 24! You and many others can easily smack me around offroad; you don't have to worry about that

YEah well I'd be happy to meet you by your house on Sunday, and either ride from there on our 36ers, or we could put them in my car and drive to a start point. Lol, those pics I posted were 100% from the same Iron mtn trail! Honestly.

Hey, it'd be awesome if you came by and we rode to the meeting place, or I could just ride to wherever we're meeting and meet you there. I don't really like the idea of driving if I don't have to though… I like just leaving my house and showing back up to my house at the end of the ride… donno, that might be kinda weird, but it's just me

Do you live close to the beach bike path, and how far is your house from the uni bonfire meeting place? I really prefer riding my 36er along the beach bike paths, vs in the city…I know, I made a video showing me riding in traffic, lol!.
It takes me about 7 miles of riding to get to Pacific Coast Highway from here… I don't know of any beach bike paths in my area though. I always just ride on PCH, which is really nice because it's so long and consistent. The traffic really isn't too bad. That 7 mile ride dumps me in Newport Beach, where it's about another 14 miles for me to get up through the top of Huntington Beach. If we meet at my house and ride to and from a start-point in Huntington Beach, you could count on it being around 14-18 miles each way.
It also takes me about 23 miles to ride down to the bonfire place… I was planning on riding there from Huntington Beach after the 36er ride, actually. It's probably 27-30 miles from where we'll meet Huntington Beach. After that, it'll be dark, and I won't be in the mood to ride another 23 miles through rolling hills back to my house, so I was planning on taking the train away from the bonfire place up to the Irvine station, from which it'll be a perfectly flat 10 mile jaunt back to my house. You're welcome to come along if you want, that'd be super! Overall I think it'll be a "15+(whatever-the-ride-is)+30+10" mile outing on Sunday, if I get it all in.
Rather than make a new thread, I thought I'd bump this one back to life to say that there will be a new 36er group ride this Sunday, starting at Torrance beach, at 8am.
This will be a casual fun ride through some of the best known beaches in SoCal, including "Redondo beach LA", Hermosa, Marina Del Rey, Famous Venice beach, Santa Monica, and if the group decides, all the way to the end of the 22.4 mile path, ending at Will Rogers State beach…ad of course, back!
Perfect Beach weather is forecast to be in the low to mid 70's. PM for more details and to confirm that you will be joining us! Btw, if the largest uni you have is a 29er, that would be fine but short cranks in the 110-114 are recommended. I rode a 29er with 137's on my first group ride a few years back, before I got my first 36er, and kept up fine with the cokers, although I was pedaling pretty fast, haha!

Half the fun of these 36er group rides is watching the reaction of people when they see a bunch of big uni wheels coming there way!

Ride on, ride strong!
Terry