Awesome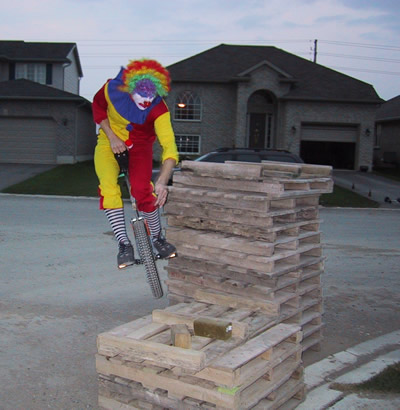 Awsome photo Brian. So tell me, are those palets in the background just there for show or did you drop from them? Or mabe grab up onto them?

Andrew
no, those pallets were too high to jump onto, and far too heavy to move. So unused…but they remained there.
Better background than a plain ol' suburban home, anyways
Looking great Sofa - the costume is perfect… oh yeah, trials don't look to shabby either…

Erin
Brilliant!
Raphael Lasar
Matawan, NJ
Now that's disturbing

Mojoe
Boy oh boy; we could have fun captioning this picture…
Flying clown attacks poor innocent pallets!
Not too shabby, but the nose could use some work:D
nice pic Brian.
cool john,i meant to dig up that thread for Halloween but forgot…its still one of the best things i ever found on the internet.
that thread was posted back when "Just Conversation" was barly moving…memorys memorys,it was just me and Sendhair in there for a long time.look at it now…
For the record, I don't necessarily hate clowns.
But that Halloween clown story is pretty good.

Great pic Sofa. --chirokid–