Uninats, the Australian Unicycling Nationals, is the biggest event on the Australian unicycling calendar.
Uninats 2009 takes place in Wollongong, NSW and runs from Saturday 11th April to Monday 13st April (Easter long weekend), plus social rides on Friday 10th.
With track & field, trials, freestyle, workshops, hockey, basketball, street, muni, video competition and more, there's something for all riders of all ages and abilities.
This is also a fantastic chance for Australian riders to meet new friends and get together for some practice ready for the Unicon XV world championships in NZ in December!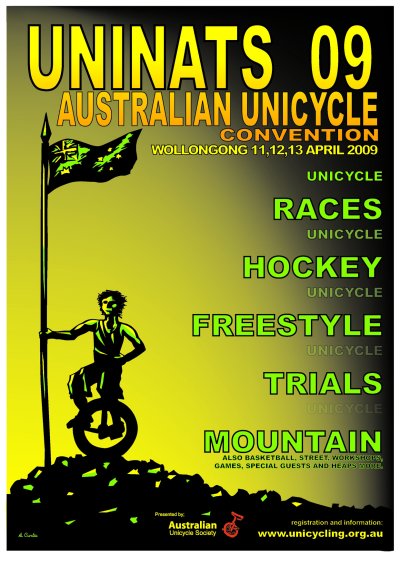 Reserve your place for Uninats 2009 by registering at the AUS members website:
http://www.unicycling.org.au/uninats/2009/registration
Early registration saves you $15 off the full price, and early registrations take priority if any events are over-subscribed, so register now! (Early registration closes March 15th.)
The AUS Uninats website also has details of the venues and main locations, timetable information and accommodation options…
See you in Wollongong!
Cris & Scott,
AUS Uninats 2009 Organisers