Today has been one of the most amazing days of my life. What has been for me a very stressful week with mid terms has just become something amazing. Today after class I made my way back to my dorm and checked my mail. I found a notice from the university that I had received and oversized package to be picked up. Excited I ran over to the university mail center and picked up my box, it was massive! After lugging it back to my room I inspected it closer, who could it be from?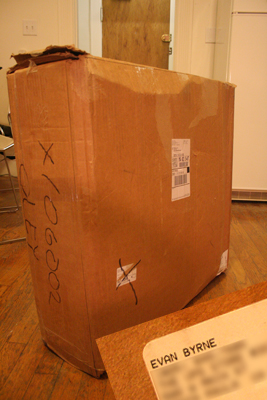 Why, it has been sent by none other than our friend Evan Byrne. I had not bought anything from Evan nor paid any sort of shipping costs - this was a gift! Delighted I began opening the box to find it was stuffed to the brim with foam packing peanuts. On the very top I find a bag titled "Bag 'O Bags" which seems to contain some neat things:
Upon opening the bag I find it contains a few smaller bags containing numerous goods:

This bag was labeled Bag 'O Goodies, I seemed to have cut from the wrong image - It contained a DNA seatpost clamp, a QR clamp, A device to steal air pressure from other tires, spoke wrenches and a small tube patching kit.
"Wow, This is some really cool stuff" I thought to myself. It was awesome of Evan to send me this. I continued rummaging through the packing peanuts and came upon these pedals - nice:
After finding the pedals I come to another bag full of awesome things:
Amazing! A SW deathgrip handle, a green fushion street cover, the new extra-thick nimbus seatpost, a steel seatpost, a brand new KH handle and bumper, and finally a spare seat stiffener plate.