Any interest in a SoCal Coker at the Beach on Sunday? Huntington is great this time of year.
Tomorrow, 8am meetup time at the Water tower house in Sunset beach. Corner of Anderson & PCH. Can't miss it! Will be PERFECT riding weather! Hope to see you all there!
Great ride today! Only did 30 miles, and the ride also was to test the new wheel build with the new spokes. No problems, no broken spokes, and smooth sailing all the way! Big Surf festival going on at Huntington Beach, and fairly big waves at the "Wedge" in Newport.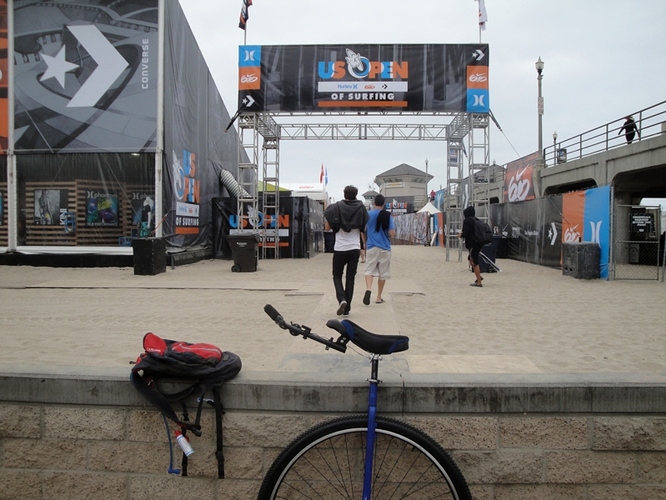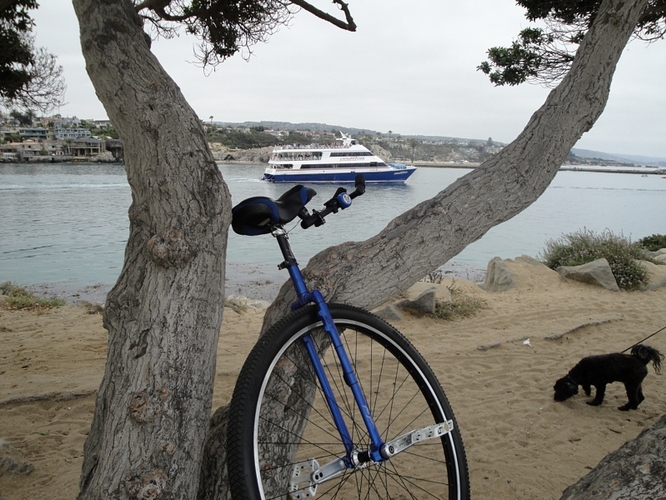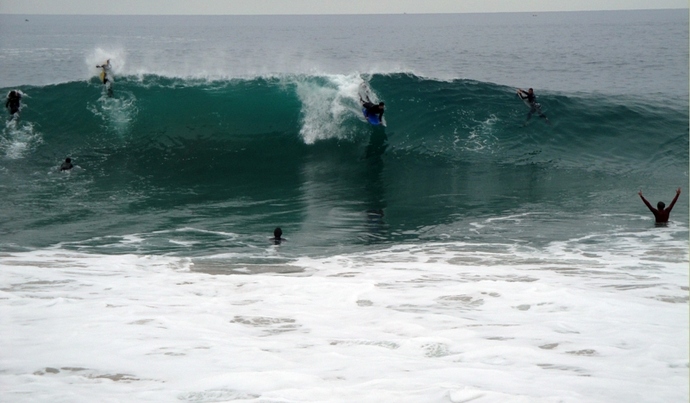 Doing a 36er beach ride tomorrow, Saturday 9/20. I'm meeting local riding buddy, (DancesOnH2O) at 5:45am at the start of bike path in Torrance beach.
We plan to ride at least to Venice Beach. Yeah it's an early start, so not for those who like to sleep in! We hope to get to Venice early enough to ride the new skate park before hardly anyone's there. Join us if you dare!

Me and Dave met at the beach (at 5:30am!!!) for our 36er ride today. Dave recently bought wickedbob's nightrider 36er, and it's a nice rig! I let him use an extra pair of 125/150mm cranks I had, since his 137/165's were a bit long, at least for longer distances.
We started at Torrance beach and ended up at Venice beach, where we did some bowl riding at the new skatepark before it was jammed with skaters. I couldn't get the hang of turning smoothly at the upper part of the curve, but Dave was doing the "snake runs" like a pro! I need to work on that. So after that we headed back and completed a nice, but fairly short 33 miler. My cycle comp has logged 470 miles since my century back on 7/11/10, so I'm doing my best to keep things "rolling"!

Fairly short 33 miler

act your age Terry! I'm 18 and that would be a long ride for me! I have some serious respect for you man, i know that is a short ride for you and many others on this forum. Soon I'll get a century in but first a comfier saddle:p.
Haha, sorry man, you're totally right. I was just kinda saying it because it seems short compared to doing a century! My legs are tired and sore, so it was definitely a heck of a good workout! I thought to myself, "ok, that's just 30 miles, there's still SEVENTY MORE to do for a century!" Nooooooo!!!

PS: I highly recommend the latest version of the KH fusion freeride saddle!
most ive done on a uni is ten. wow i suck. but i am going to do a bike century soon. i am already signed up for a metric century (100km)
Sounds like fun! My guess is you'll not only do the metric with no problem, but the whole 100 miles as well someday soon, and you'll do just fine! Either way, you have decades ahead of you so by the time your my age, you will probably have done a ton of them!

yeah i could go do a metric century any old time, but in miles…maybe next summer